Abraham MORPURGO was born in Amsterdam on August 23, 1882. He was one of the eight children of the Jewish couple Izak MORPURGO and Vogeltje MORPURGO, neé Beddekoper.
His parents were buried in the famous Sephardic Jewish cemetery Beth Haim in Ouderkerk aan de Amstel near Amsterdam.
On December 26, 1911 Abraham MORPURGO married Elsa KLEIN in the Salzburg Synagogue. Elsa KLEIN had been born in Bohemian (Cesky) Brod [at that time part of Austria-Hungary and now in the Czech Republic] on September 24, 1887.
Elsa was the youngest of the three children of the Jewish couple Johanna KLEIN, neé Drucker, and Moritz KLEIN – who owned a sawmill in Bergheim just north of Salzburg.
The KLEIN family had lived in the city of Salzburg since 1892 and had full city residents' rights under the Austrian Heimatrecht laws. They lived at 15 Markus Sittikus-Straße in Salzburg's Andrä quarter. Moritz KLEIN died there at age 72 on April 17, 1923 – the only member of the KLEIN-MORPURGO family whose grave can be found in the Jewish cemetery in Salzburg-Aigen.
Elsa and Abraham MORPURGO's daughter Edith was born in Salzburg on November 20, 1912. The MORPURGO family lived at 19 Schlachthofgasse/15 Rainerstraße in the Elisabeth-Vorstadt neighborhood – just a few blocks away from Elsa's parents' home.
Abraham MORPURGO was a businessman, and until the violent year of 1938 he was the proprietor of a trade, insurance, and general agency called »the Anchor« located at 6 Lessingstraße/17 Rainerstraße. Both buildings on the Rainerstraße (previously called the Westbahnstraße) had belonged to the Jewish couple Gottlieb und Hermine Winkler.
Gottlieb Winkler, Vice-president of the Salzburg Jewich Community Organization died in 1921 and after that his widow Hermine Winkler was sole owner of the property.
In the violent year of 1938 a Salzburg building contractor and a dentist were the beneficiaries of the expulsion of the MORPURGO family from the two buildings which had been owned by the Jewish widow Hermine Winkler.
Abraham MORPURGO, who was still a citizen of the Dutch Netherlands, fled to Amsterdam in June 1938 with his wife Elsa, daughter Edith, and mother in law – the 78 year old widow Johanna KLEIN.
On April 27, 1939 26 year old Edith MORPURGO married Julius Jakob David ESSINGER in Amsterdam. ESSINGER had been born in Munich on April 21, 1902, and had owned a movie theater there before he fled to Amsterdam in 1937.
The ESSINGERs had two children born in Amsterdam, Eveline Franziska, born on February 15, 1940, and René, born on April 20, 1942.
The last residences of the MORPURGO-KLEIN and ESSINGER families in Amsterdam were at 1045 Prinsengracht and 119 Vijzelstraat. They were arrested and interned at some point after the beginning of the German occupation of Holland (though the specific dates are unknown).
What is known from the Dutch Databank Community Joods Monument and the Shoah-Databank at Yad Vashem, is that Abraham MOPURGO, his mother-in-law Johanna KLEIN, his daughter Edith, her husband Julius ESSINGER and their daughter Eveline were all deported to Auschwitz.
The 29 year old Edith MORPURGO ESSINGER, her husband Julius Jakob David ESSINGER and their two year old daughter Eveline were murdered in Auschwitz on August 31, 1942.
Edith's 60 year old father Abraham MORPURGO was murdered in Auschwitz on January 26, 1943, as was her 83 year old grandmother Johanna KLEIN on February 12, 1943.
Johanna KLEIN's two sons, Karl and Hugo, managed to flee to Shanghai. Karl died in Shanghai in 1947, while Hugo moved on to Israel and died in a pulmonary hospital there in 1956. Researchers in Holland have determined that their sister Elsa, Abraham MORPURGO's wife, died in Amsterdam at age 55 on October 28, 1942 – shortly after her daughter Edith was murdered in Auschwitz along with Elsa's granddaughter and son-in-law.
Thanks to the research of the Munich City Archives we know that Edith's son René was taken in and hidden by a Dutch family and was able to survive the Nazi terror (see the Munich Jewish Memorial Book – Gedenkbuch der Münchner Juden).
After many inquiries we received a report at the beginning of 2012 that four of Abraham MORPURGO's seven siblings were also murdered: his brothers Jacob and Joseph in Sobibor, his brother Moses and his sister Sippora (whose married name was FRANK) in Auschwitz.
What was not known until now is that Adolf Eichmann – notorious as one of the chief organizers of the Holocaust – also lived at 19 Schlachthofgasse along with the Abraham MORPURGO family in 1933 when he was employed as a regional salesman for the Vacuum Oil Company.
But how could Adolf Eichmann (who was registered in the Salzburg »Brown House« Nazi Party headquarters at the corner of 17 Faberstraße/16 Auerspergstraße as party member #899895) manage to leave Salzburg unhindered on June 14, 1933?
After a series of Nazi terrorist bombings in Austria the Salzburg police failed to arrest the leaders of the Salzburg Nazis because on June 13, 1933 a Nazi sympathizer, a National Socialist »mole« in the state police (which had been entrusted with the evidence against the Salzburg-based National Socialists – including Adolf Eichmann) betrayed the planned operation and warned the »Brown House« Salzburg HQ about the pending arrests.
The state police in Salzburg not only failed to arrest the Nazis, they also covered up the mole's betrayal and abuse of office. This failure of the state police was made an official secret so that the public was prevented from learning that criminal police officer Eduard Fischer (who the state police either could not or did not want to hold responsible) had switched sides.
Like the Nazis he had warned he went to the German Reich, and made a career in the Munich Gestapo and SS. The public was similarly left unaware of the fact that from January 7-June 14, 1933 Adolf Eichmann lived in Salzburg – and not just any place in Salzburg but in a first floor apartment at 19 Schlachthofgasse – a building that Antisemites had defamed as a »Jew House«.
The two Salzburg properties, 6 Lessingstraße/17 Rainerstraße and 19 Schlachthofgasse/15 Rainerstraße, were owned by the Jewish couple Gottlieb und Hermine Winkler from 1913 and 1914 to 1922.
After the death of Gottlieb in 1922 they belonged to the widow Hermine Winkler. After her death in 1937 the two buildings were supposed to go to her heirs: Hugo Winkler; the Mensa Academica Judaica; the Chewra Kaddischa (the Salzburg Jewish burial society); and the Jewish Institute for the Blind.
But before the transfers could be entered in the property register the two buildings were confiscated in 1939 (6 Lessingstraße was turned over to Liselotte Niedermüller-Zojer, and 19 Schlachthofgasse was turned over to Lorenz und Olga Deutschmann).
Between 1950 and 1955 they were restored in steps to Hugo Winkler and to the official Jewish Community of Vienna [Salzburg-Froschheim property register #s EZ 225 and EZ 228].
In 1960, at the request of the Austrian People's Party (ÖVP), the Salzburg City Council voted unanimously to rename the Schlachthofgasse as the Hans Prodinger-Straße because Hans Prodinger had lived at 15 Schlachthofgasse from 1925 to 1928.
But who was the Hans Prodinger who was honored this way?
Hans Prodinger was born in Villach, Carinthia in 1887. He was a window dresser and a notorious Antisemite who was the first leader of the Nazi Party in Salzburg.
He was a strong advocate of merging Austria with Germany and he represented the National Socialist Party in the Salzburg provincial assembly until he and some of his followers left the Party in a dispute with Adolf Hitler about how the Nazis should win power – Prodinger wanted to form electoral alliances with other Antisemitic parties at a time when Hitler was committed to seizing power by force.
After 1928 he led a Greater Germany Party faction in the Austrian National Parliament in an alliance with other right wing parties. When Austria's democratic government was suspended in 1934 he joined the Austro-Fascist Fatherland Front organized by his Christian Social Party parliamentary allies and headed the Front's Clerical Employees' Union and Clerical Employees' Insurance Organization.
After the Nazi Germany absorbed Austria he was arrested by the Nazis and sent to the Dachau concentration camp on June 17, 1938 for his role in the Austro-Fascist state that had imprisoned and persecuted many Austrian Nazis after they had murdered the Austro-Fascist Chancellor Dollfuss in a failed attempt to seize power in 1934.
He died/was murdered there on September 5, 1938 – officially from an »acute cardiac arrest«.
Since March 1988 there has been an entry on a memorial tablet in the Austrian Parliament for the victims of Nazi persecution that reads : »Greater Germany Party member of Parliament Hans Prodinger, 11/14/1887 – 9/5/1938, died in the Dachau concentration camp.«
It took another twenty years before the Holocaust victims of Salzburg were also named in memorials.
Author: Gert Kerschbaumer
Translation: Stan Nadel

Stumbling Stone
Laid 07.07.2011 at Salzburg, Hans-Prodinger-Straße 19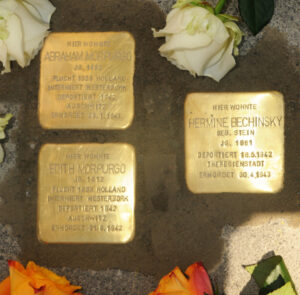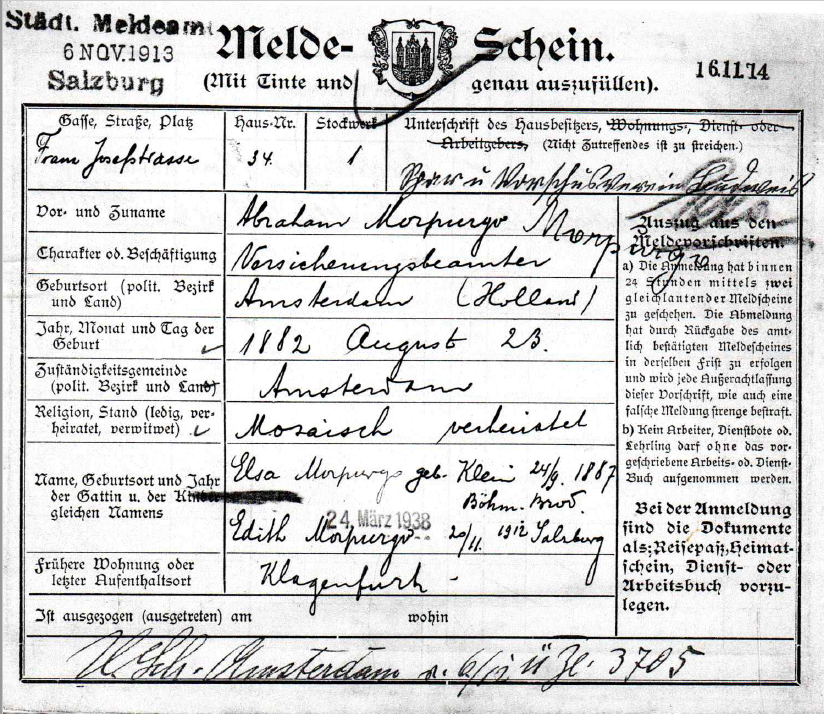 Registration card for the Family of Abraham Morpurgo

Back side of the registration card for the Family of Abraham Morpurgo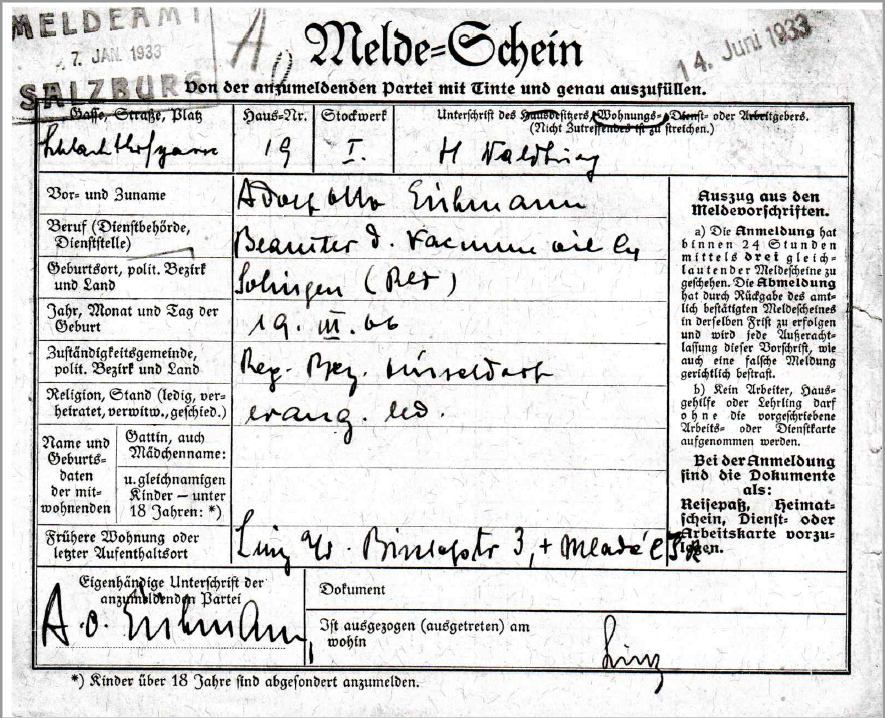 Registration card for Adolf Eichmann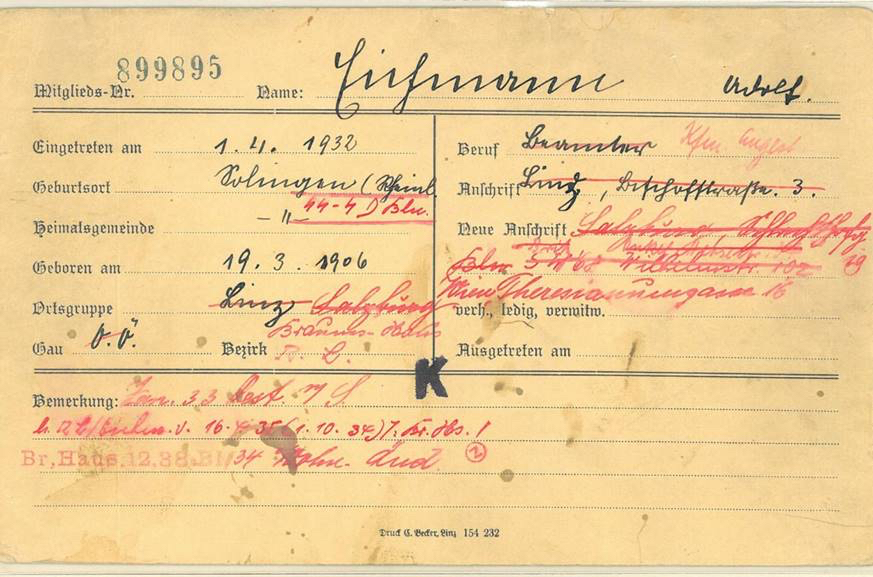 Nazi Party membership card for Adolf Eichmann with his official addresses: 3 Bischofstraße in Linz; 19 Schlachthofgasse in Salzburg; 102 Wilhelmstraße in Berlin (the HQ of the Reichsführers SS); 16 Theresianumgasse in Vienna (the Palais Rothschild which was the HQ of the »Central Office for Jewish Emigration«)