Siegfried WALCHER was born in Westendorf near Kitzbühel (in Tyrol) on April 7, 1918 and was baptized into the Roman Catholic Church. She was a child of August Walcher and his wife Elisabeth, neé Krimbacher.
Elisabeth Krimbacher was the daughter of a farmer from the Tyrolean Brixental.
August Walcher was a non-commissioned officer in the Erzherzog Rainer 59th Infantry-Regiment of the Austro-Hungarian Army during the First World War.
After the post-war abolition of the monarchy he served in the military administration of the Salzburg garrison and the family lived at 12 Bucklreuthstraße near the Riedenburg barracks where he worked.
At first Siegfried was taken care of by his mother in Salzburg, but he was taken in care starting in 1925, among the institutions where he was a patient were the Konradinum in Eugendorf (11 km northeast of Salzburg) and in the St. Anton Charity Village in Bruck on the Glocknerstraße (about 90 km south of Salzburg).
In April 1939, after the Nazis had taken over Austria, Siegfried was supposedly transferred from Bruck to Mariathal bei Kramsach in Tyrol, but his name appears on a handicapped transport list from the Salzburg State Asylum.
However or whenever he ended up in the Salzburg State Asylum, it is clearly documented that Siegfried WALCHER was one of the 82 patients from the Salzburg State Asylum who were deported from there to the Hartheim Castle extermination center near Linz on April 17, 1941 – where they were all murdered.
As with all of the victims of the Nazis secret »T4«1 extermination campaign the death of 23 year old Siegfried WALCHER was not recorded in either the Salzburg police registration files or in the parish registers.
His parents and siblings all survived the terror years and his mother died in Kufstein Tyrol in 1972.
1 It was called the »T4« program because its Berlin headquarters were located at Tiergartenstraße 4.
Primarily responsible for the murderous program in Salzburg were: Dr. Friedrich Rainer as Governor, Dr. Oskar Hausner as leader of the regional health office, Dr. Leo Wolfer as director of the State Asylum (now called the Christian-Doppler-Clinic), and Dr. Heinrich Wolfer as head of the hereditary disease section of the State Asylum.
Sources
War Crimes Records of the U.S. Judge Advocate Division Headquarters (The National Archives Washington DC)
Parish registers of the Tyrol and Salzburg Archdioceses
Police registration files of the city of Salzburg
Author: Gert Kerschbaumer
Translation: Stan Nadel

Stumbling Stone
Laid 24.09.2019 at Salzburg, Bucklreuthstraße 12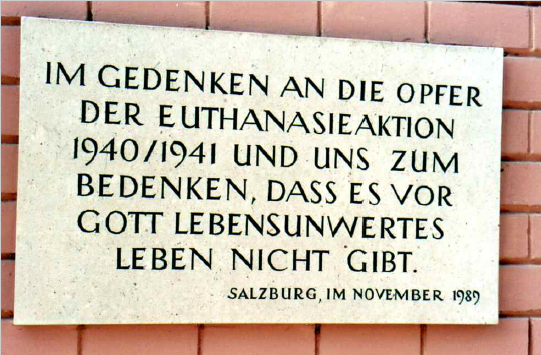 Photo: Gert Kerschbaumer