Richard PANZENBÖCK was born in a small Lower Austrian mountain town called Hohenberg bei Lilienfeld on March 23, 1909.
He was a married forester who lived in a tiny settlement a dozen kilometers away from his birthplace called Moosbach bei Türnitz.
In September 1941 he was drafted into the German army and assigned to the 82d Mountain-Construction Replacement Battalion that was stationed in Salzburg. In 1942 he seems to have had his first deployment to the front, after which he was granted some home-leave.
We know in any case that on November 20, 1942 he was in his home district government offices in Türnitz to get food and clothing rationing cards for his family. It was reported to the police that in the presence of several people he had said to some municipal employees that:

The war could have been ended long ago if the people weren't so stupid in going along. Those of us at the front should throw down our weapons, then it would stop soon enough. It is stupid that someone wants to rule the whole world.

Richard PANZENBÖCK was immediately arrested and charged with having »publicly attempted to undermine or cripple the morale of the German people«.
He deserted in Salzburg on August 26, 1943 before he could be sent to the front. For nine and a half months he lived in hiding in Salzburg – as a so-called »submarine« – certainly not without help and support. He had a lover who worked in a Salzburg Café.
We know that the army investigation service found their trail in Salzburg. As the lovers were enjoying the 1944 Easter holiday in a rural district an intense manhunt was underway, but it turned out to be a debacle for the armed military patrol that tried to arrest him: the deserter managed to overwhelm a warrant officer & take his pistol and disappear with it.
At that point Salzburg police detectives working for the army investigation service went into action. They interrogated the deserter's lover and put her under massive pressure. They threatened her with arrest for helping a deserter and said she would be sent to a work camp if she didn't cooperate. This made it possible to lure Richard PANZENBÖCK into a vile trap.
The woman arranged to meet her lover near Schloss Hellbrunn in Anif on Sunday, June 11, 1944 and five army investigators and their chief lay hidden in wait. The investigators arranged with the woman that they would close the trap when she went to the toilet. They knew that since the failed earlier attempt to arrest him the deserter was armed with a pistol and they moved cautiously. The equally cautious deserter recognized the danger and fled, which led to an exchange of fire.
Richard PANZENBÖCK was severely wounded by bullets in the breast and left leg. Seeing no further possibility to escape he dropped to his knees and shot himself in the forehead (or so the investigators reported). It is only certain that the 35 year old Richard PANZENBÖCK was dead around 12 noon on June 11, 1944 – place of death, Hellbrunn.
At that point the Court Martial of the 418th Division in Salzburg suspended the proceedings against PANZENBÖCK. The court concluded that there was no evidence of criminal negligence by a third party and that only Richard PANZENBÖCK was responsible for his death.
Instead of a condolence letter his wife and parents got a death notice in dry official German and his lover was left alone to come to grips with her conscience.
Their memory is hard to come by today as the wartime authorities of the Gestapo, SS and Military justice sought to prevent any honoring of their victims by their survivors by cremating their bodies in the Salzburg Municipal crematorium and then burying their ashes in an anonymous grave: the place in the cemetery where the ashes and bodies of these now anonymous victims was buried is called »the tomb of the forgotten«.
It was only after numerous decades that the deserters from the German army were finally legally rehabilitated and cleared of all criminal wrongdoing in liberated Austria – with the Cancellation and Rehabilitation Act of the Austrian National Council that went into effect on December 1, 2009.
Sources
Salzburg city and state archives
Documentation archive of the Austrian Resistance (DÖW)
Austrian state archive
Author: Gert Kerschbaumer
Research: Gernod Fuchs
Esche Schörghofer
Translation: Stan Nadel

Stumbling Stone
Laid 15.11.2016 at Salzburg, Fürstenweg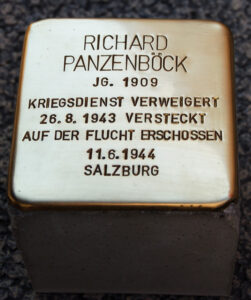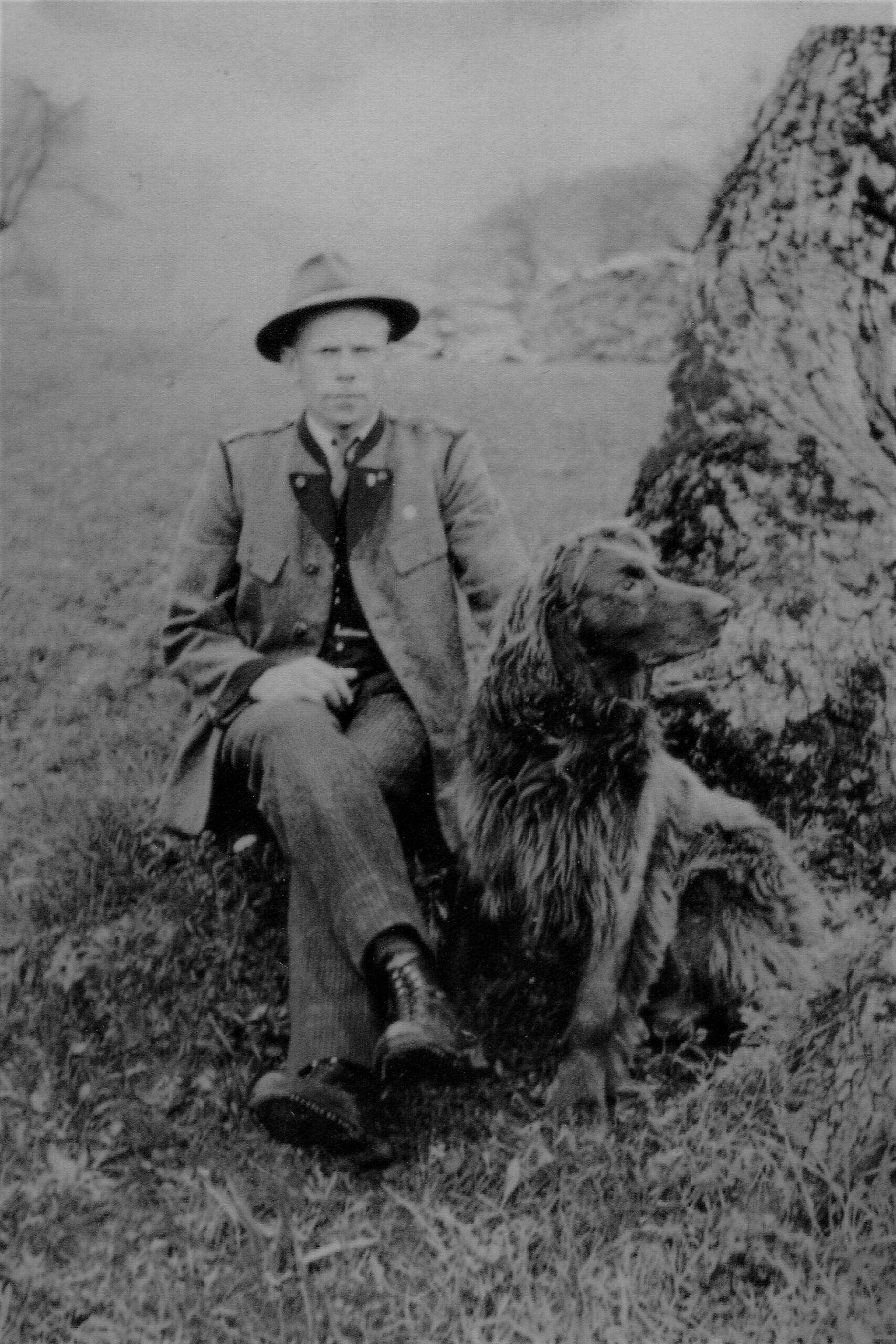 Richard Panzenböck
Photo: Fam. Panzenböck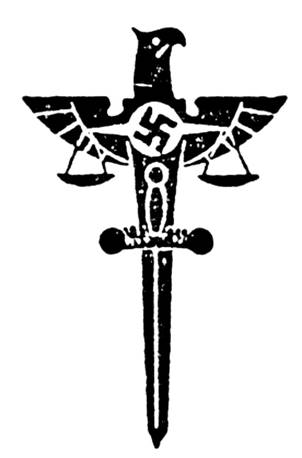 The symbol of the Nazis' civil and military courts: A sword and scales of justice combined with the Nazi Party eagle and swastika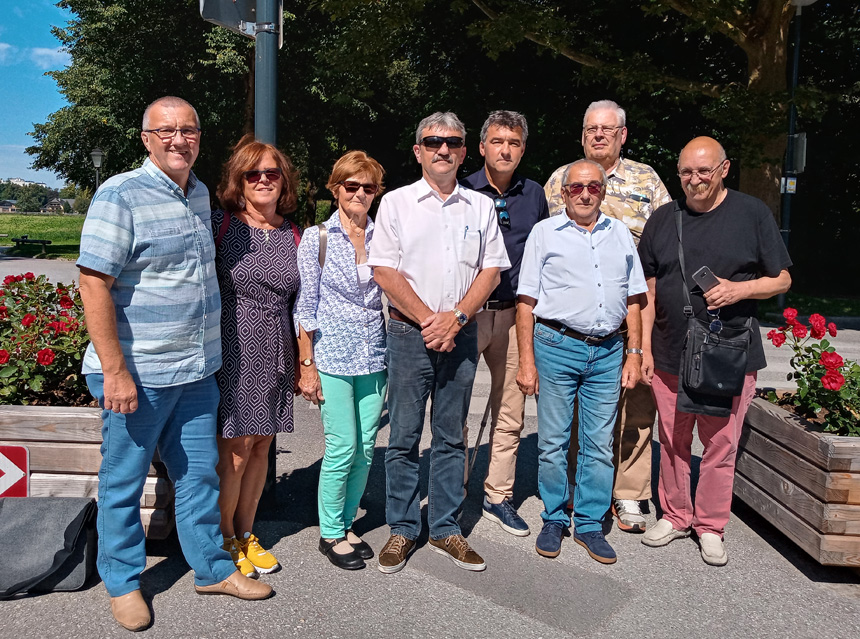 The descendants of Richard Panzenböck (with historians Gert Kerschbaumer & Prof. Gernod Fuchs, right & right back) during a visit to the Stolperstein in September 2020.