Alma ROSÉ was born in the Habsburg Capital and Residence Vienna on November 3, 1906. She was the second and youngest child of Justine ROSÉ née Mahler, and the prominent violinist and concert master Arnold ROSÉ.
They had their daughter Alma baptized in Vienna's Reformed City Church (Helvetian Confession) on February 9, 1907, with her aunt Alma Mahler (wife of the composer and Vienna Court Opera conductor Gustav Mahler) serving as her godmother.
Alma ROSÉ's father Arnold trained her to be a virtuoso violinist and under his direction she made her debut at the Vienna Music Association on December 16, 1926:
Alma Rosé, Gustav Mahler's nice and the daughter of Arnold Rosé – two of Vienna's leading musicians, debuted yesterday as a violinist, a violinist of top quality with a promising future.
Die Stunde, December 18, 1926, p.8
For the public, the violinist Alma ROSÉ was above all the daughter and nice of two »great men«. Then on September 16, 1930 the 23 year old Alma married another »great man« in the Vienna City Hall, an international star violinist named Váša Příhoda who was a citizen of Czechoslovakia.
Their turbulent marriage collapsed after a few years and they divorced in March 1935. In accordance with the laws of both Austria and Czechoslovakia Alma had lost her Austrian citizenship when she married and had automatically become a Czech citizen, and she retained that citizenship after her divorce [progressive Czechoslovakia stood in contrast to some other countries where divorced women of foreign origin lost their married citizenship and became stateless persons when they were unable to resume the citizenship of the countries of origin].
In 1933, a year of political transformation, Alma ROSÉ – then still a married woman – founded the Vienna Waltzer Girls, a women's orchestra that played »Viennese easy listening tunes« at their debut at the Renz Variety – an artistic direction which Alma ROSÉ chose for her self-realization that deviated sharply from that of male star violinists.
That she didn't want to cut herself loose entirely from her »great men« is indicated by her accepting her father's invitation to perform with the Rosé-Quartet consisting of older men – which she did on June 9, 1936 in the Vienna Concert Hall and on August 30, 1936 in the Great Hall of the Salzburg Mozarteum:
The famous daughter Alma, the elegant virtuoso violinist, supplemented the quartet of Misters Rosé, Stwertka, Fischer and Buxbaum.
Salzburger Chronik, August 31, 1936, p. 8
That was Alma ROSÉ's sole appearance at the Salzburg Festival, and it was also the last for the »time-honored« Rosé-Quartet.
Alma ROSÉ had a Czechoslovakian passport so she could have left Vienna without any problems when the Nazis took over in March 1938. But she chose to stay, not least because of her severely ill mother, a sister of Gustav Mahler, who died in Vienna on August 22 1938.
In the fall of 1938 Alma ROSÉ traveled to London to prepare an exile from Vienna for her father Arnold who was suffering from depression and who needed a way to survive in exile. On May 1, 1939 Alma ROSÉ's efforts succeeded in gaining a lifesaving exile for her 75 year old father.
In London the two of them were able to revive the Rosé-Quartet. Because Alma ROSÉ didn't have a permit to work as a soloist in England she went to Holland at the end of 1939 for a well-paid engagement that would enable her to support her father in London. But then the Germans invaded Holland in May 1940 and Alma ROSÉ was caught in a trap.
She tried to flee through occupied France to Switzerland in late 1942, but she was arrested in Dijon and interned in the Drancy concentration camp near Paris. On July 18, 1943, two weeks after the Drancy Camp had been taken over by the SS from the French police, Transport Number 57 left Drancy for Auschwitz. Its boxcars were filled with a thousand Jewish women, men and children – including Alma ROSÉ.
Alma Rosé was registered as number 50381 in the Auschwitz-Birkenau women's camp. Overseer Maria Mandl, from Münzkirchen in Upper Austria and known as »the beast«, assigned Alma to play in her »girl's orchestra«.
So Alma ROSÉ, celebrated at her 1926 debut in the Vienna Music Association as »a violinist of top quality with a promising future«, found her future at an end as a violinist and orchestra conductor in the Auschwitz extermination camp.
On April 4, 1944 the 37 year old Alma ROSÉ died from poisoning after eating some tainted canned food.
The cellist Anita Lasker-Wallfisch, who had survived the horror, memorialized Alma ROSÉ with the words:
Gustav Mahler stood at her cradle, Josef Mengele at her grave.

Quellen
Israelitische Kultusgemeinde Wien – the official Jewish Community of Vienna
Salzburg Festival Archives
Österreichisches Biographisches Lexikon
Richard Newman: Alma Rosé, Wien 1906 – Auschwitz 1944. Eine Biografie, Bonn 2003
Bernadette Mayrhofer, Fritz Trümpi: Orchestrierte Vertreibung. Unerwünschte Wiener Philharmoniker. Verfolgung, Ermordung und Exil, Wien 2014
Author: Gert Kerschbaumer
Translation: Stan Nadel

Stumbling Stone
Laid 17.08.2020 at Salzburg, Max-Reinhardt-Platz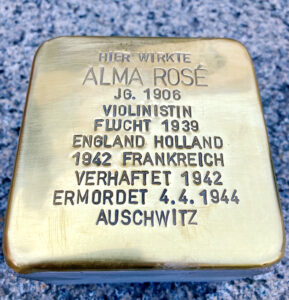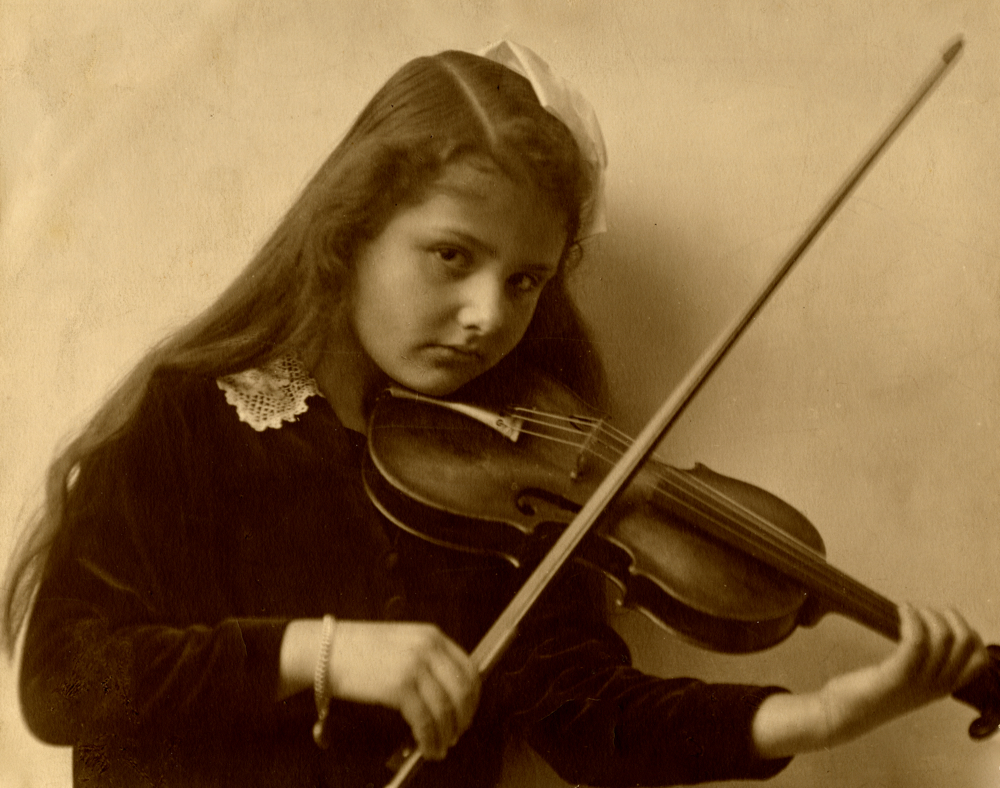 Alma Rosé as a young girl in around 1914
Photo: Gustav Mahler–Alfred Rosé Collection, Music Library, Western University, London, Canada
Alma and Arnold Rosé, date unknown
Photo: Gustav Mahler–Alfred Rosé Collection, Music Library, Western University, London, Canada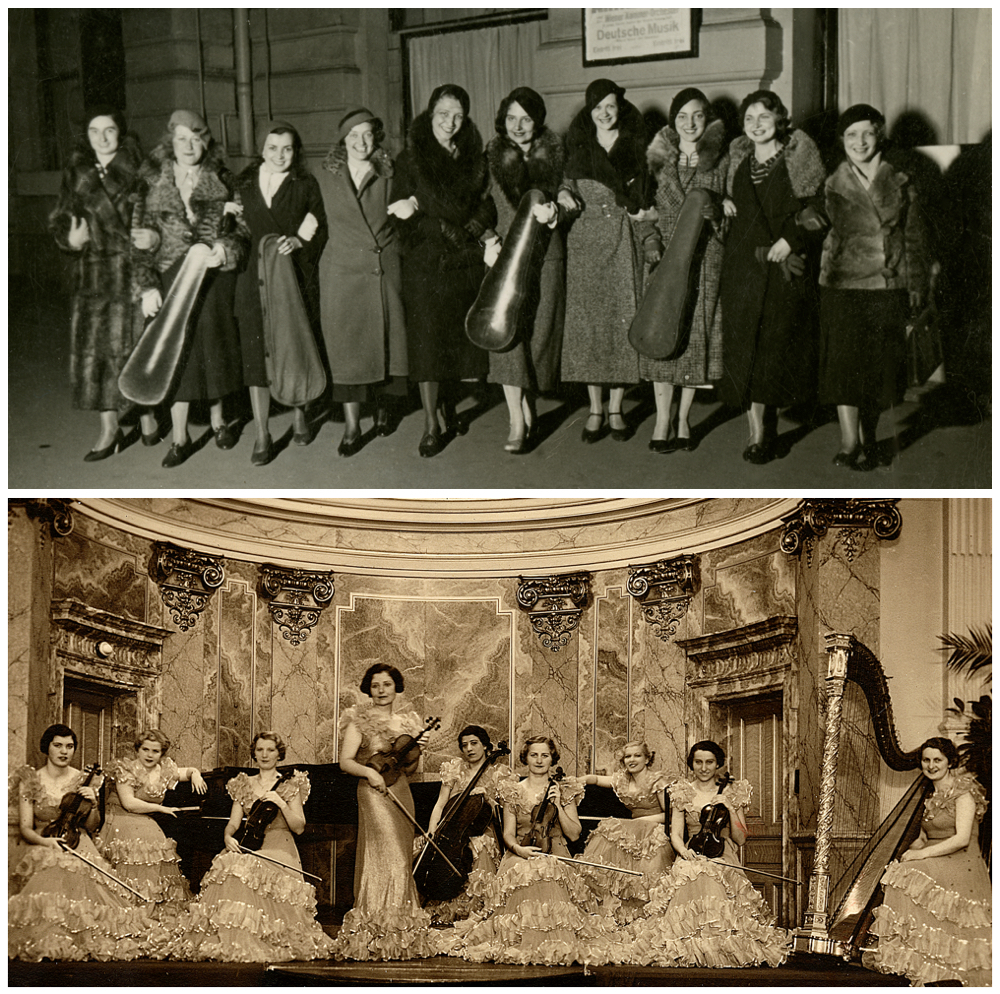 The
Wiener Walzermädeln
(above, with Alma standing) in 1933
Photos: Gustav Mahler–Alfred Rosé Collection, Music Library, Western University, London, Canada
Newspaper clipping of Arnold and Alma Rosé after their escape from Vienna
Photo: Gustav Mahler–Alfred Rosé Collection, Music Library, Western University, London, Canada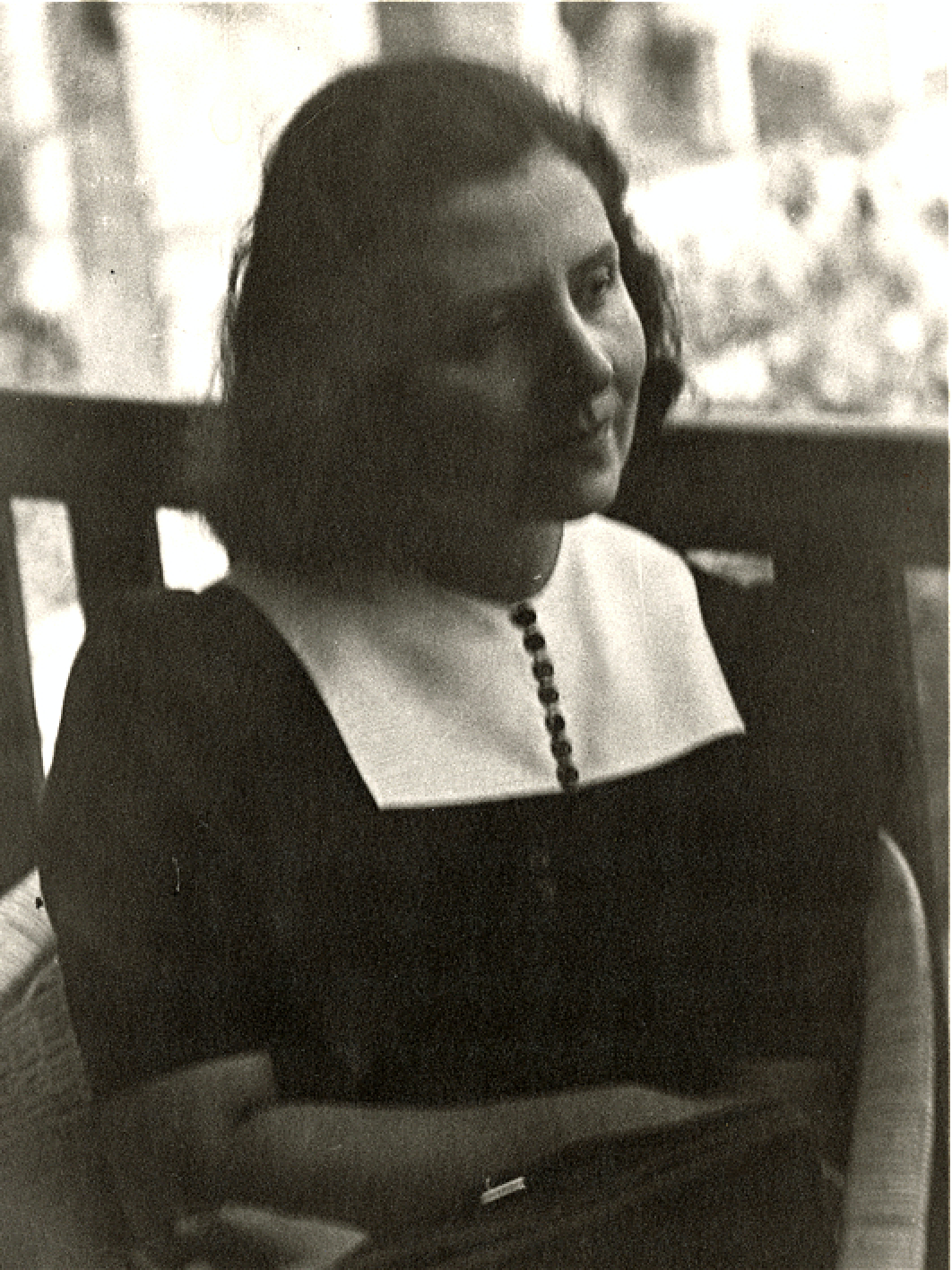 Alma Rosé in around 1941
Photo: Gustav Mahler–Alfred Rosé Collection, Music Library, Western University, London, Canada